Repowering Wind Energy has been a hot topic in India for quite some time, yet with very little impetus towards practical deployment. In this article, we shall look into various new possibilities for Repowering wind power in India and in the global market.
What is Repowering?
Repowering is the process of dismantling older wind turbines or wind farms and replacing them with new modern-day turbines with bigger capacities to extract maximum wind energy resources from that location. Unlike solar power, wind power is only available at certain locations. For a wind turbine to start producing electricity, it needs a minimum of 3m/s and provides a maximum output at continuous wind speeds of 10-13m/s. The speeds may vary based on Turbine Class (1,2,3).
Repowering Potential In India
According to CEA the total installed capacity of wind power in India is 40,357MW as on 31March 2022. Out of which, it is estimated that around 10000MW of wind power uses a Wind Turbine Generator (WTG) of less than or equals to 1MW Capacity. The problem associated to this is that these WTGs are installed in extremely good Wind farms with high potential and these turbines are using 15-20 years older technology and causing lesser yield of wind energy.
The older sub 1MW turbines used around 55-60m rotor and 70-90m towers. Now, modern day turbines use 120m+ rotor and 120m+ Hub Heights creating a possibility of doubling the production capacity for the same wind farm.
The estimated replacement potential for repowering wind turbines in India is 10000MW. With a potential of doubling/ tripling, the capacity with modern-day turbines the total Repowering potential of wind turbines in India could be 25,000 – 30,000MW. This number shall increase every 5years as new technology is introduced in the market. 
Learning from the Global Repowering market
Repowering is not a new trend in the global wind market. In Denmark, the repowering projects dates back to 2001. Countries like Germany, Denmark and spain is already adding repowered wind turbines as a part of their energy mix every year.
Decommissioning older turbines partially / completely and repowering with new WTGs with modern day technology.
These projects are supported with relevant Government policies like incremental tariff, tax exemptions and production credits making these investments more lucrative today.
New Opportunities and trends in the repowering market.
Second-hand sale of wind turbines to other markets.
The African continent is an extremely potent piece of land for wind power. The high wind potential and growing energy demand make it the most suitable place for the second-hand wind market.
Shipping second wind turbine components including nacelle, blades, Towers is convenient through the sea route from India and also proves cost-effective. It is noted that 14% of China's global Wind turbine nacelle exports reach the Sub-Saharan African countries
Second-hand Sale of wind turbines to remote island nations
Many remote island nations like El Hierro, of Spain's Canary Islands, Isle of Gigha in Scotland have already migrated to 100% Renewables. Predominantly wind turbines for their energy needs.
A remote island like this has to account for huge expenses to transport fossil fuels from far-off places to an island nation and mostly has to transport the fossil fuel through cargo flights or sail over rough seas.
Additionally setting up a power plant to meet the low to small-scale energy needs of the island nation and operate and maintain them becomes challenging.
It is estimated that there are over 6,70,000 islands globally and the majority of them in Norway, Sweden, Canada, Finland, and the United States accounting for more than 85% of the islands
Challenges in the Indian repowering market.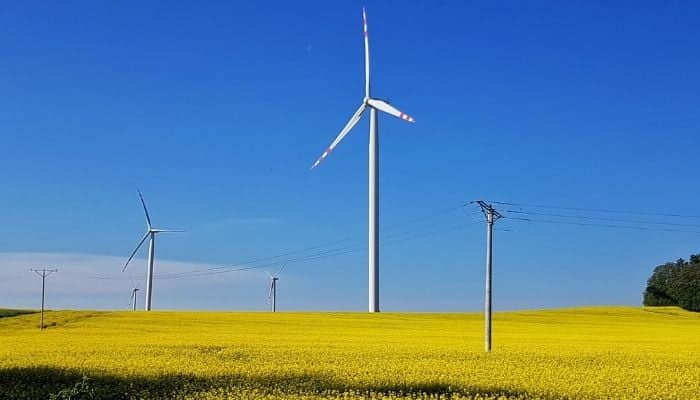 Repowering of wind assets in India has been discussed for quite some time now. Though the concept seems promising it has its bottlenecks for large scale deployment. Lets see what are the major challenges to Repowering wind assets in India.
Tariff Mechanism
There are many old wind farms that were commissioned over 10-15 years back at a high Tariff. The Power Purchase Agreement (PPA) of older wind farms are very lucrative since the government back then wanted to aid the industry and hence provided a lot of benefits to wind farm projects back then. Over the decade, the wind turbine technology has seen a drastic shift along with the reduced wind power tariffs, making modern day wind turbines economically non-viable.
To put this in perspective, The Tariff mechanism of wind turbines had shifted from Accelerated Depreciation (Tax Benefits) to Feed-in-Tariff (Fit) to Reverse bidding. The wind power tariff has dropped from Rs. 5/kWh to 2.46 Rs/kWh in the last decade, seeing almost 50% drop in revenue. Hence older wind farms are more economically lucrative than newer wind farms.
Transmission Lines
Most of the WTGs 10 years back were sub- 1MW turbines and were connected to a 11kV Distribution network operating in a lesser Voltage in transmission. But modern day wind turbines are 3+MW capacities and are connected to 33/66kV lines. This means the grid infrastructure needs to be upgraded along with the WTGs to make it technically viable for a repowering project.
Multiple Owners
Only after the Feed-in-tariffs were introduced, the Independent Power Producers (IPPs) started focusing on the indian wind sector and pooling large money to set up multi-MW wind farms with a capacity of 50/100 MW wind farms owned by a single entity. Before that, a 100 MW Wind farms shall be owned by at least 30-70 different owners, each owning one to two MWs each. These were individual textile mill owners or other manufacturers looking to leverage the Accelerated depreciation (AD – Tax benefits). Hence aggregating an entire wind farm of 50 to 100MW for a repowering project becomes an herculean task. There are multiple disputes, and expectations from each of these owners.
Repowering Policy in India
India announced its repowering policy in 2016 with an additional interest waiver through IREDA on top of the existing subsidized interest rates for wind power projects. A repowering project shall receive all the existing benefits of a new wind turbine project. Check out the summary of Repowering Policy in India