Various kinds of pollution are still a hurdle for our Mother Earth which is yet not resolved. Every country is trying to be sustainable in one way or the other and so, does India also. Countries like ours are slowly and gradually developing different modes of renewable sources of energy to save the environment.
Wind energy is one of them. Currently, India ranks fourth in the world in wind power capacity as of February 2021 with a wind capacity of 38.7 GW.  The number is quite impressive but not enough. It already has installed many wind power plants but their capacity is very less.
We all know about the Paris Agreement relating to climate change which was recently signed by many countries. Climate change has become a global issue in today's era. Sustainable development goals introduced by United Stations were already there in force for many years but still, their action was taking time. Due to this, the Paris Agreement took place where everyone promised to reduce the amount of emissions.
Offshore Wind Power potential in India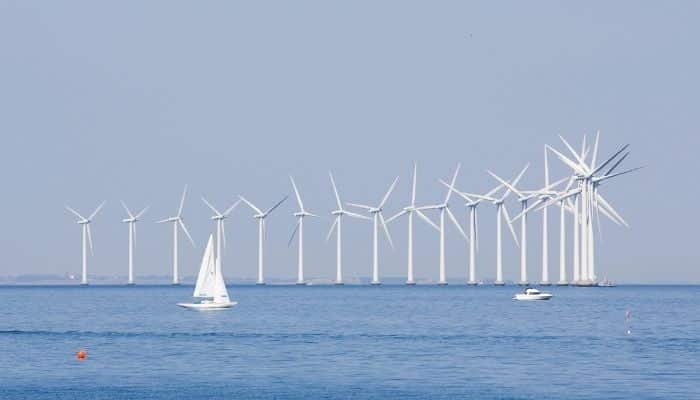 India has a  7,600 km-long coastline, due to which there is a high offshore wind energy potential which remains unutilised. There are many positives of offshore potential energy but there is no offshore energy potential established till date, due to which it is still considered an underdeveloped sector.
It has been estimated that if they start establishing offshore potential, they would be able to generate 140 GW by 2050. And out of this, Gujarat and Tamil Nadu would alone make up 71 GW. Being considered an underdeveloped sector, the government initiated a policy to make advancements in it and to fulfill the country's energy demand through renewable and eco-friendly resources.
Offshore Wind Power policy in India
Ministry has set a target of 5.0 GW of offshore wind installations by 2022 and 30 GW by 2030. This has been made to give confidence to the project developers in the Indian market.

The National Offshore Wind Energy Policy was facilitated by the Indian Government in 2015. Offshore wind energy harnessing is still an underdeveloped sector in the country and this aims at changing that scenario.
Due to this policy, seven Offshore Wind Zones were identified for Initial Project Development. The policy's main objective is to promote spatial planning and management of maritime renewable energy resources in India's EEZ through suitable incentives.
Why is offshore wind energy important and useful?
The rate of population growth is rising. Due to this, a problem of scarcity of non-renewable resources will soon arise as they are exhaustible and will soon deplete. And further, the health of the earth is degrading each day due to which an urgent need rises to use renewable sources of energy which would be eco-friendly and an asset to the environment.
Wind energy is one such renewable resource that helps in generating electric power without the use of coal or petroleum and it emits less pollution as compared to the other sources which use coal as a medium.
It is a clean and renewable source of energy which is inexhaustible in nature.
The speed of wind is more at sea than on dry land as they are no barriers, so the capacity to produce power increases up to twice the power obtained from onshore facilities. 
It would help in creating less noise pollution as the offshore wind energy plants are less noisy and have a lower visual impact in comparison to their onshore counterparts.
It is easier to transport the turbine components which are needed to install a wind farm offshore which is why wind turbines with unit power of over 10 – 15 MW are feasible in an offshore setting, while on land, the maximum unit power is around 5 MW. Moreover, we can install huge wind power plants having a high capacity which was not possible onshore.
Offshore tenders
Power Minister RK Singh said India will soon invite bids for 2,000 MW offshore wind energy projects.  This would be soon initiated and done to develop this type of infrastructure which would help in the growth and advancement of the country.
Offshore wind power companies in India
There is a huge scope for wind energy as it may supply power to a large portion of the country which could be beneficial to both humans and the environment. And to promote and encourage companies various incentives are provided by the government. There are few wind energy projects which are undertaken by various companies which are yet to be started. Wind Energy Projects like ONGC – Vertical Axis Pilot Project, First 1000 MW commercial offshore wind farm in India, FOWIND – Facilitating Offshore Wind in India – Tamil Nadu.
Challenges in Offshore WInd Power in India
Though there are many advantages of developing offshore windmills but there are many reasons due to which it is still considered an underdeveloped sector and it is not developed as much as it could have been. Some of the reasons are mentioned below:
High installation costs:
Installing an offshore windmill is not an easy task and it is moreover, very expensive technology for India right now, especially when prices have fallen for onshore wind and solar," said Shah of IEEFA.
Lack of Infrastructure
Further, a lack of developed port infrastructure adds to higher costs of installing turbines in the sea and there were delays because of the Covid-19 pandemic due to which their progress has been slow, according to experts. This became one of the reasons due to which India has no operational offshore wind energy plant.
Gujarat is the highest wind energy-producing state in India. Though it has many windmills on the ground but as they are old and obsolete, they are required to be updated.
To make a better India along with a safe and healthy environment is necessary. With the depletion of resources such as coal or petroleum, a need is developed to change our dependency on these resources and shift to renewable sources of energy wherever possible. Hence, wind energy being one of them is a great source of generating power.